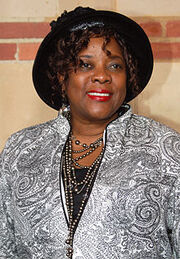 Loretta Devine (born August 21, 1949) is an American stage, film and television actress. She has appeared in such films as Waiting to Exhale, The Preacher's Wife, I Am Sam,Urban Legend, Crash, Woman Thou Art Loosed, For Colored Girls, This Christmas andJumping the Broom Doc McStuffins
She is currently part of the main cast of the Lifetime drama The Client List in the role of Georgia Cummings.
Devine was born in Houston, Texas. Her mother, Eunice O'Neal (née Toliver), was a beautician, and her father, James Devine, worked as a laborer.[1] She grew up in the Acres Homes area of Houston. She was very active on the pep squad, and performed in talent shows at George Washington Carver High School. Devine graduated from the University of Houston in 1971 with a Bachelor of Arts in Speech and Drama and Brandeis University in 1976 with a MFA in Theater.[2] Devine was initiated into the Epsilon Lambda Chapter.
Devine appeared in the 1978 flop A Broadway Musical, which closed after one performance. She captured attention in Dreamgirls, a Broadway musical loosely based on the history of The Supremes, in which she originated the role of Lorrell Robinson (a fictional character based on Mary Wilson). It premiered on December 20, 1981 and ran for over 1500 performances; it eventually won six Tony awards. Minor roles for Devine followed in films such as Little Nikita and Stanley & Iris. She has a cameo performance in the film version of Dreamgirls.
She was a repertory character in the play The Colored Museum with Vickilyn Reynolds. Devine and Reynolds both went on to play sisters in the short-lived TV series Sugar and Spice. During the period between the play and the series, Devine appeared in the first season of the TV series A Different World as Stevie Rallen, dormitory director at fictional Hillman College.
In 1995, she landed a high-profile role as Gloria Matthews in Waiting to Exhale, joined in the cast by Whitney Houston, Gregory Hines, and Angela Bassett, among others. The role earned her an NAACP Image Award for Best Supporting Actress, as did her next movie,The Preacher's Wife, her second movie with Houston and Hines.
In 2000, Devine took on the role of impassioned high school teacher Marla Hendricks on the Fox TV drama Boston Public. Devine won three more Image Awards for her work in the series. She also continued to work in film, playing prominent roles in Urban Legend, Urban Legends: Final Cut, and I Am Sam. Devine earned yet another Image Award nomination and an Independent Spirit Award nomination for her work in the 2004 film Woman Thou Art Loosed. She also appeared in the 2005 Academy Awards Best Picture winning film Crash. She also played Rochelle's mother, Maxine, who's always picking on her, on the sitcom, Everybody Hates Chris.
In 2007, she appeared in This Christmas, a Screen Gems production co-starring Delroy Lindo, Mekhi Phifer, and Regina King. in 2008, Devine joined the cast of the ABC series Eli Stone. While the series received positive reviews, it was cancelled in July 2009 after two seasons.
In 2009, Devine played the character of Jeanette in the rejected pilot for the David E. Kelly television series that was supposed to air onNBC, Legally Mad. Devine later that year made guest appearance on Cold Case.
She was part of the ensemble casts of two Tyler Perry-directed films For Colored Girls and Madea's Big Happy Family.
Devine also appeared in the ABC medical drama Grey's Anatomy as Dr. Richard Webber's wife, Adele, and in 2011 she won aPrimetime Emmy Award for Outstanding Guest Actress in a Drama Series for her performance. She was nominated for a second time for her performance in 2012.[3]
In 2011, She had played the role of Aunt Honey on ABC Family's original comedy State of Georgia alongside Raven-Symoné and Majandra Delfino. The series was cancelled after one season.
In 2012, she played Hallie, a nurse, on Playhouse Disney's Doc McStuffins. Later that year she joined Lifetime series The Client List, playing the role of Georgia Cummings, the owner of the massage parlor where the lead character Riley Parks works.
Devine won Outstanding Female Actor in a Feature Role for Grey's Anatomy at the 2012 Gracie Allen Award.[4] Devine will be awarded the Distinguished Alumni Award from her alma mater, the University of Houston, on April 27, 2013. This is the highest honor given by UHAA to a UH graduate.[citation needed]
Stage appearances
Edit
Minister, Godsong, La MaMa E.T.C., New York City, 1978
(Broadway debut) Dionne, Hair (revival), Biltmore Theatre, 1977
Soloist, Langston Hughes, AMAS Repertory Theatre, 1977
Title role, Karma, Richard Allen Center, New York City, 1977
Gloria, Verandah, New Dramatists, 1977
Soloists, Seasons Reasons, Henry Street Settlement Playhouse, New York City, 1977
Yenta lady, A Broadway Musical, Lunt-Fontanne Theatre, New York City, 1978
Loretta, Miss Truth, Apollo Theatre, New York City, 1978
Bones, Circle in the Square Theatre, New York City, 1978
Ms. Dabney, Mahalia, Henry Street Settlement Playhouse, 1978
Virtue, The Blacks, Richard Allen Center, New York City, 1978
Young Mary, Comin' Uptown, Winter Garden Theatre, New York City, 1979
Jewel, Lion and the Jewel, Lincoln Center, New York City, 1980
Precious, Dementos, City Center, New York City, 1980
Lorell Robinson, Dreamgirls, Imperial Theatre, New York City, 1981
The Casting of Kevin Christian, Shepherd Street Art Gallery, 1983
Mermaid, Gotta Getaway!, Radio City Music Hall, New York City, 1984
Janeen Earl-Taylor, Long Time Since Yesterday, Henry Street Settlement Playhouse, New York City, 1985
Lilly, Big Deal, Broadway Theater, New York City, 1986
Lala, Wigs, and model, The Colored Museum, Public Theaters/Susan Stein Shiva Theater, New York City, 1986
Delia, Spunk, Mark Taper Forum, Los Angeles, 1990
Billie Holiday, Lady Day at Emerson's Bar and Grill, Old Globe Theatre, San Diego, CA, then Little Theatre, Phoenix, AZ, 1991
Holly Day, Rabbit Foot, Los Angeles Theatre Center, Los Angeles, 1991
Charlesetta, East Texas Hot Links, The Met, Los Angeles, 1991
Soloist, Rodgers, Hart, Hammerstein Tribute, Embassy Theatre, 1991
Soloist, Big Moments on Broadway, Kennedy Center Opera House, Washington, DC, 1991
Also appeared as Cissy, Woman from the Town and in A Midsummer Night's Dream and The Hot Mikado in 1990.
References
Edit